Logistics companies, often referred to as third-party fulfilment providers or 3PLs, deliver integrated supply chain solutions that encompass functions such as order processing, warehousing, item selection, packaging, and shipment. These companies handle inventory reception, processing, transportation and storage on behalf of companies.
Logistics plays a substantial role in India's economy, accounting for approximately 14.4% of the GDP, and its influence is steadily increasing. Projections indicate that the Indian logistics market is poised for a robust growth trajectory, with an anticipated Compound Annual Growth Rate (CAGR) of 15.5% by 2024. Additionally, the logistics industry is a significant source of employment in India, currently providing jobs to over 22 million individuals, with expectations of generating an additional 1.2 million employment opportunities by 2025. Logistics companies in India will play a major role in driving the growth of India in this decade.
How to select best logistics company in India
Choosing a logistics company in India requires thorough planning, diligent research, strict adherence to regulations, and a focus on efficiency. Below are the essential steps to select an efficient logistics company in India:
Supply Chain Requirements: Determine your supply chain prerequisites by outlining the particular requirements, including the categories of products you plan to manage, storage capacity, transportation essentials, warehousing infrastructure, and logistical capabilities.
Regulatory Compliance: Acquaint yourself with the regulatory landscape governing the handling and transportation of your products in India. Gain a comprehensive understanding of the permits, licenses, and compliance responsibilities outlined by local and national authorities. Emphasize the importance of complying with safety, environmental, and transportation regulations to guarantee lawful and secure operations.
Infrastructure and Facilities: Identify suitable facilities for storage and warehousing . Assess options for leased or owned warehouses that align with safety standards, possess the required infrastructure and are strategically located to facilitate efficient transportation and distribution
Transportation and Logistics: Establish collaborations with well-regarded transportation and logistics companies skilled in the handling of your products. Confirm their possession of the required permits, equipment, and expertise to safely and effectively transport within india.
Safety Protocols: Create comprehensive and resilient safety protocols along with standard operating procedures (SOPs) for the management, storage, and transportation of inventory Enforce measures to minimize risks, avert accidents, and protect the well-being of personnel, facilities, and the environment.
Technology and Systems: Allocate resources to appropriate technology systems for the efficient management of your supply chain. This encompasses inventory management, tracking and tracing functionalities, quality control procedures, and meticulous record-keeping. Explore the adoption of specialized software or platforms to streamline operations and improve transparency across the supply chain
Customer service : Customer service holds significant importance in your evaluation process. You can assess this aspect by actively observing their responsiveness in communications and their approach to addressing issues. Opting for a logistics company in India that offers round the clock customer service is ideal as it ensures accessibility whenever you require assistance.
Top Logistics companies in India
Based on the above factors we have curated a list of best logistics companies in India.
1. Godamwale
Godamwale, a company founded by engineers from IIT having 45+ years of experience in supply chain provide end to end logistics solutions from freight forwarding, warehousing to transportation with cutting edge technology. Godamwale, India's leading supply chain company offers technologically advanced, scalable warehousing, and 3PL solutions across over 129 cities in India.
Godamwale offers a flexible warehousing solution that doesn't require long-term space commitments, allowing companies to align their sales cycles with their warehousing needs. Through its extensive network of technologically-driven warehouses, it assists companies in reducing costs, enhancing sales, shortening delivery times, and elevating the customer experience. This warehousing network is underpinned by the company's proprietary supply chain software, which delivers real-time, end-to-end visibility and analytics, enabling faster and more informed decision-making in the supply chain.
The technology "Inciflo" by Godamwale facilitates tracking and management of products, starting from manufacturing and extending to retailers/distributors and end customers, utilizing attributes such as LOT number or batch number. It ensures 100% inventory accuracy and order precision, while also implementing user-specific transactional controls such as FIFO (First In, First Out), FEFO (First Expired, First Out), and LEFO (Last Expired, First Out).
The Godamwale's facilities follows all the safety compliances equipped with trained manpower to handle products with any kind of volume and complexity of operations. 
2. Mahindra Logistics
Mahindra logistics is one of India's largest 3PL providers, offering comprehensive integrated logistics solutions. Our mission is to assist clients from various industries in efficiently managing their entire supply chain, covering stages from pre-production and production to storage and distribution. In addition to our mobility services, it provides a robust transport network, including multi-modal and last-mile delivery solutions..
The primary focus is to provide core 3PL Integrated Solutions and Network Transportation Services. Their mobility segment extends a wide range of people mobility services, serving both B2B and B2C markets.
3. Safexpress
A company started in 1997, is India's leading transport company and has established an impeccable network, direct routes, round-the-clock operational continuity, and the provision of top-tier services.
Safexpress stands as India's preeminent logistics and supply chain services organisation, offering a comprehensive array of logistics solutions. These encompass Express Distribution, 3PL (Third-Party Logistics), and Consulting services, catering to a vast clientele in the B2B sector. Additionally, Safexpress extends its reach to C2C customers through meticulously tailored, value-added express distribution services.
Leveraging its profound understanding of diverse customer needs across a multitude of industries, Safexpress's client base spans a wide spectrum of business verticals. These range from Healthcare to Automotive, Hi-Tech to FMCG (Fast-Moving Consumer Goods) and consumer electronics, Apparels & lifestyle to Engineering, and Books & periodicals.
4. VRL logistics
Established in 1976, VRL is a publicly listed company on both the NSE and BSE Exchanges, boasting a market capitalization of INR 55.89 billion as of March 31, 2023. Over the years, it have evolved into a nationally recognized logistics and transportation enterprise, holding the distinction of being the largest fleet owner of commercial vehicles in India. VRL has been a trailblazer in establishing a secure and dependable logistics network, particularly in the realm of parcel services, ensuring the efficient delivery of goods, even in remote and challenging locations.
5. Gati
Gati, established in 1989 is renowned for streamlining the seamless and tailored movement of goods from their origin to their destination, Gati provides comprehensive logistics solutions suitable for both individuals and corporations. This transformation encompasses all stages, from transportation and handling to procurement, distribution, and even global logistics and production.
Gati's proficient logistics solutions extend their reach to cover over 99% of districts across India. Notably, they boast the exceptional achievement of having the most extensive multi-modal connectivity network, encompassing surface, air, and rail transport.
6. DHL
DHL is a German logistics company that originated in the United States. It specialises in courier services, package delivery, and express mail, handling a substantial volume of over 1.8 billion parcels annually. As a subsidiary of the German logistics conglomerate DHL Group, DHL Express, its express mail division, stands as a prominent player in the indian parcel services market and serves as India's primary courier and parcel delivery service provider.
7. Transport corporation of India
Headquartered in Gurugram, Haryana, India, TCI (Transport Corporation of India) was established in 1958 by Prabhu Dayal Agarwal in Kolkata, India.
TCI Freight offers a range of transportation services throughout India. These services include full truckload, less than truckload (LTL), small consignment, and transportation of over-dimensional cargo. In addition to road transport, this division provides rail transportation solutions using bulk rakes, containers, and wagons.

TCI Express: Formerly known as TCI XPS, TCI Express is the express cargo division of the TCI Group. This division specializes in offering domestic and international courier services via road, rail, and air, with additional value-added services. TCI Express also plays a role in the e-commerce delivery sector in India.
8. Bluedart
Blue Dart Express is an Indian logistics firm specialising in courier delivery services. Its headquarters are located in Mumbai, Maharashtra and was incepted in 1983. The company also operates a subsidiary cargo airline known as Blue Dart Aviation, serving various South Asian countries.
During its early years, Blue Dart entered into a business agreement with Gelco Express International, UK, to manage international air package express services originating from India.
In 2010-11, Blue Dart introduced the option of 'cash on delivery (COD)' as an additional payment method for its courier services, catering to the evolving preferences of its customers.
9. Allcargo Logistics Ltd
Allcargo Logistics Limited, headquartered in Mumbai, India, is a renowned logistics company. It is recognised for providing comprehensive multi-modal integrated logistics and transportation services on a global scale.
Allcargo's MTO service encompasses NVOCC (Non-Vessel Operating Common Carrier) operations associated with LCL (Less than Container Load) consolidation and neutral FCL (Full Container Load) activities worldwide. This is facilitated through its wholly-owned subsidiary, ECU Worldwide. Initially,.
It manages four CFSs, including locations at JNPT, Chennai, Mundra, and Kolkata.. The services offered encompass export and import handling, LCL shipments, bonded and open warehousing, first and last-mile transportation, dry container maintenance and repair, reefer monitoring, and the handling of hazardous materials.
10. TVS Supply chain
TVS SCS provides a comprehensive range of supply chain services that encompass the entire process, including sourcing and procurement, integrated transportation, Logistics Operation Centre, In-Plant Logistics, finished goods and after-market fulfilment, consultancy, professional services, and product management solutions. These services are backed by our advanced Information Systems.
It specialises in resolving supply chain challenges for a diverse clientele, including international organisations, government departments, and both large and medium-sized businesses. Their expertise lies in delivering efficient solutions that not only reduce our clients' operating costs but also enhance their overall performance.
11. Delhivery
Delhivery is an Indian company specialising in logistics and supply chain services, with its headquarters located in Gurgaon. Established in 2011 by Sahil Barua, Mohit Tandon, Bhavesh Manglani, Suraj Saharan, and Kapil Bharati, Delhivery boasts an extensive network infrastructure. This includes more than 85 fulfillment centers, 24 automated sort centers, 70 hubs, a network of over 7,500 partner centers, and a fleet of 3,000+ direct delivery centers.
12. Ekart Logistics
Ekart is leading logistics and supply chain provider in India. Their journey began in 2009 as the internal supply chain division for Flipkart. Over the years, unwavering commitment to delivering exceptional consumer experiences, characterised by dependable deliveries and the efficient management of large-scale variability, has established them as the preferred partner for numerous businesses. By availing their comprehensive end-to-end fulfilment services, you can ensure that your customers receive on-time deliveries and enjoy a seamless and hassle-free experience, thus keeping them satisfied.
Conclusion
The Indian logistics market is experiencing rapid growth, marked by the emergence of numerous companies. Nevertheless, it is crucial to exercise careful consideration when making a decision in this regard, as it can significantly impact the success or failure of your business. It is advisable for companies to collaborate with logistics firms in India that possess an extensive nationwide presence, offer a flexible operational model, and leverage cutting-edge technology. This strategic partnership enables businesses to make quicker and more optimal decisions within their supply chain operations.
Redefine your supply chain
Ahmedabad is strategically located in the western part of India. It serves as a gateway to the northern and western regions of the country, including Rajasthan and Maharashtra. Its proximity to major cities and industrial hubs makes it a natural choice for warehousing and logistics operations.
Ahmedabad's strategic location, excellent connectivity, industrial growth, and supportive policies have contributed to its emergence as an important warehousing and logistics cluster in India.
Warehousing in Ahmedabad: Major Clusters
Warehousing in Ahmedabad are predominantly situated in the western and southern areas of the city, establishing vital links to major cities in Gujarat like Rajkot and Vadodara
Warehousing facilities in Ahmedabad are predominantly concentrated within four primary clusters: Aslali-Kheda, Changodar-Bagodara, Sanand-Viramgam, and Chhatral-Kadi-Vithalapur-Becharaji.
Warehousing in Ahmedabad: Regional distribution
Aslali-Kheda and Changodar-Bagodara, situated in the southern region of Ahmedabad, constitute the larger and more established warehousing clusters. These clusters are strategically positioned along the Golden Quadrilateral, providing excellent connectivity to Mumbai. In contrast, the Sanand-Viramgam and Chhatral-Kadi-Vithalapur-Becharaji clusters, located in the western part of the city, are relatively newer in terms of development.
The Aslali-Kheda cluster, located on the Mumbai-Ahmedabad Highway, stands as one of the oldest warehousing clusters in the area. It accounts for the majority of warehousing demand, approximately 43% of overall transactions in FY 2023. Throughout the year, the manufacturing sector witnessed the highest transaction activity, followed closely by the 3PL (Third-Party Logistics) industry, contributing significantly to end-user demand within the Aslali-Kheda cluster.
The Changodar-Bagodara corridor is situated along the Rajkot-Ahmedabad Highway and witnessed substantial warehousing demand during FY 2023, primarily driven by the manufacturing sector. Following closely behind were the 3PL and retail segments. This corridor benefits from robust infrastructure, including high-quality 3x3 lane roads with divider separation. It has attracted numerous industries and manufacturing companies due to its well-developed and organized ecosystem. The emergence of modern technology-equipped logistics and warehousing parks has further boosted occupier activity in this area, accounting for 31% of the total transactions in FY 2023.
On the other hand, the Sanand-Viramgam and Chhatral-Kadi-Vithalapur-Becharaji belts primarily focus on the automobile sector, housing large automobile companies and their ancillary units. During FY 2023, the Sanand-Viramgam cluster contributed to 16% of the transaction volume, while the Chhatral-Kadi-Vithalapur-Becharaji cluster accounted for 10% of the overall transaction volume.
Warehousing in Ahmedabad: Rentals
Grade A space rentals in the Aslali-Kheda belt typically fall within the range of 161-269/square meter per month (15-25/square foot per month). In the Changodar-Bagodara belt, Grade A space rentals range from 161-258/square meter per month (15-24/square foot per month). These areas represent slightly higher rental markets.
In contrast, the Sanand-Viramgam belt and the Vithalapur-Becharaji belt offer comparatively more affordable rental rates for Grade A spaces. In the Sanand-Viramgam belt, rentals range from 161-226/square meter per month (15-21/square foot per month), while in the Vithalapur-Becharaji belt, they range between 172-215/square meter per month (16-20/square foot per month).
Additionally, there was some appreciation observed in land rates in both the Aslali-Kheda cluster and the Changodar-Bagodara cluster during the year.
Warehousing in Ahmedabad: Transactions trend in 2023
In FY 2023, the Ahmedabad warehousing market experienced a decrease in leasing volumes, with 0.35 million square meters (3.8 million square feet) of space leased compared to 0.50 million square meters (5.3 million square feet) in FY 2022. This decline in overall transactions can be attributed to a decrease in spaces leased by Fast-Moving Consumer Durables (FMCD) and Fast-Moving Consumer Goods (FMCG) players. However, Ahmedabad, known for its manufacturing and industrial activities, saw the manufacturing sector leading the demand, accounting for 41% of the overall occupancy, followed by the 3PL (Third-Party Logistics) and retail sectors at 32% and 10%, respectively. Transactions within the manufacturing space notably increased by 17% YoY during FY 2023.
Despite its established presence, the Ahmedabad warehousing market faces various challenges, including inadequate infrastructure support, high land prices, and a lack of modern offerings, which can deter the development of new warehouses in the region. Grade A facilities were preferred, representing 43% of the transactions in FY 2023, compared to 36% in the previous year.
Interestingly, in FY 2023, the demand for warehousing space took a slightly lower share, accounting for 76% of the transactions, compared to 92% in FY 2022. The industrial segment, engaged in various light to heavy manufacturing activities within warehousing parks, saw a significant increase, contributing to 24% of the transactions, compared to just 8% recorded in the previous financial year.

Knight frank report 2023
Warehousing in Ahmedabad: Leasing data
How Godamwale can help you set up efficient warehousing and distribution in Ahmedabad
1. Prime Locations & Network Optimization: Our strategically located warehouses in more than 200 locations helps decentralized inventory, reduce transit times and costs while ensuring easy access to your inventory.
2. Flexible Tenancy & Scalable Space: We offer flexible tenures and adaptable storage options, allowing you to adjust your capacity as needed.
3. Transparent Pricing: Our transaction-based pricing ensures fair and transparent costs, with you only paying for the services you use.
4. Security and Safety: Your inventory is protected with advanced security measures, including surveillance and access controls.
5. Expertise and Experience: With years of industry experience, Godamwale's expert team ensures the careful handling of your goods
6. Inventory Tracking with Inciflo: We provide real-time inventory tracking and visibility to take faster and smarter supply chain decisions.
Godamwale's SaaS platform - Inciflo enables companies to orchestrate and optimize the supply chain across facilities, networks, systems, partners and sales channels. From a single logistics technology platform, manage orders, inventory, operations, transportation, and analytics across programmes and providers.
A control tower with unparalleled real time visibility across supply chain to minimize excess inventory and free up working capital while avoiding stock-outs and increasing revenue.
Conclusion
Looking ahead, the future of warehousing in Ahmedabad appears promising, especially in light of the Indian government's emphasis on manufacturing and favorable policies. Ahmedabad's status as an established industrial hub for sectors such as chemicals, textiles, pharmaceuticals, and food processing positions it as a bright spot for warehousing demand. Here are some factors contributing to this positive outlook.
However, it's essential to address existing challenges, such as infrastructure bottlenecks and high land prices, to fully unlock Ahmedabad's potential as a warehousing and logistics hub. Nonetheless, with its established industrial base and the government's push for manufacturing, Ahmedabad is well-positioned to be a thriving center for warehousing and logistics in the years to come.
Customer satisfaction is the key to B2C and D2C businesses. Godamwale offers fast, flexible and affordable fulfillment and shipping with a fully connected and scalable warehousing network and a software that integrates with all your sales channels. From metros to rural India and from start-ups to scaling brands we have got you covered.
---
Delhi - Distribution hub of North India
Delhi NCR serves as the primary distribution hub for north India due to its strategic location and excellent connectivity. It acts as the gateway, facilitating the smooth movement of goods from any part of the world to the northern region of India. This is made possible by six nearby Inland Container Depots (ICDs), which efficiently handle the import and export of goods.
Unlike some other major cities in India, Delhi NCR does not have a centralised dedicated warehousing zone like Bhiwandi in Mumbai. Instead, warehousing in Delhi are spread across the NCR region. Some of the major zones with warehousing and 3PL in Delhi in the area include Sanjay Gandhi transport Nagar, Farukhnagar, Garhi Hasraru, Dwarka, Dadri, Okhla, Greater Noida, and Mundka.
Each of these warehousing zones plays a vital role in accommodating storage and distribution needs for various industries.
3PL & Warehousing in Delhi
The concentration of 3PL (Third-Party Logistics) providers for B2B businesses in Delhi and NCR is strategically centered around key areas such as Sanjay Gandhi Transport Nagar, Swaroop Nagar, Dwarka, and Mundka. The proximity of these locations to major transport hubs plays a crucial role in attracting logistics service providers and making them desirable for B2B businesses.
Sanjay Gandhi Transport Nagar & Swaroop Nagar: Located in North Delhi, Sanjay Gandhi Transport Nagar is a well-established logistics hub. Its close proximity to the national highway and connectivity to major highways and expressways make it an ideal location for 3PL providers in Delhi to facilitate efficient movement of goods. The presence of 100's of part load transporters allows logistics companies to offer smooth and timely delivery services to B2B customers.
Dwarka: Dwarka, situated in Southwest Delhi, is another prominent area for 3PL providers in Delhi. Its proximity to Indira Gandhi International Airport and accessibility to major highways make it an attractive choice for logistics companies, enabling them to efficiently handle air and road transportation.
Mundka: Located in West Delhi, Mundka offers excellent connectivity to the Delhi-Rohtak road and the Kundli-Manesar-Palwal (KMP) expressway. Its strategic positioning allows logistics providers to serve B2B businesses with quick access to road transport facilities.
3PL & Warehousing in Ghaziabad and Noida
Ghaziabad and Noida in the National Capital Region (NCR) are key areas with a high concentration of 3PL (Third-Party Logistics) providers catering to B2B businesses. Their strategic location and proximity to major transporters make them attractive choices for logistics companies. Here's why Ghaziabad and Noida are popular 3PL and warehousing hubs:
Proximity to Major Transportation Routes: Ghaziabad and Noida are well-connected to major transportation routes, including national highways and expressways.
Industrial and Manufacturing Hubs: Ghaziabad and Noida are home to several industrial and manufacturing zones. The presence of numerous businesses and manufacturing units creates a demand for logistics services, leading to the concentration of 3PL in Noida and Ghaziabad
Availability of Warehousing Facilities: These areas offer a wide range of warehousing facilities, including modern and technologically advanced warehouses.
Infrastructure and Connectivity: Ghaziabad and Noida boast robust infrastructure, making it easier for logistics providers to navigate the region efficiently. Additionally, the presence of well-developed road networks, logistics parks, and industrial clusters enhances the appeal of these locations for 3PL businesses.
As a result of these factors, Ghaziabad and Noida have emerged as prominent logistics hubs in the NCR, offering comprehensive 3PL solutions to B2B businesses operating in the region and beyond..
3PL & Warehousing in Gurgaon
Gurgaon (now known as Gurugram) is a strategic 3PL warehousing location for both B2B & B2C business for several reasons:
Proximity to Delhi NCR: Its close proximity to the national capital makes it a central and easily accessible location for logistics and warehousing in Gurgaon.
Excellent Connectivity: Gurgaon enjoys excellent connectivity through an extensive network of highways, expressways, and roads. The city is well-connected to major transportation routes, allowing for efficient movement of goods to and from different parts of the country.
Industrial and Business Hub: Gurgaon has emerged as a major industrial and business hub with a diverse range of industries, including IT, automotive, electronics, pharmaceuticals, and consumer goods. The presence of various industries generates significant demand for warehousing and logistics services.
Strategic Location for North India: Gurgaon's location in northern India makes it strategically positioned for serving the logistics needs of the entire northern region. It acts as a gateway for goods entering or exiting North India, offering access to a vast market.
Business-Friendly Environment: Gurgaon offers a favorable business environment with supportive government policies and initiatives. This encourages the growth of 3PL and warehousing in Gurgaon.
E-commerce Growth: Gurgaon has witnessed significant growth in the e-commerce sector. Many e-commerce companies have set up fulfillment centers and distribution hubs in the city, further boosting the demand for 3PL warehousing in Gurgaon.
List of Top 3PL Companies in Delhi
A list of the top 3PL providers in Delhi NCR along with their features & offerings are mentioned below:
1. Godamwale
2. AWL India
3. AAJ Enterprise
4. Safexpress
5. Holisol Logistics
6. OM Trans Logistics
7. Glaucus
Established: 2016
Founder: Ranbir Nandan, Vivek Tiwari, Basant Kumar
Expertise: Warehousing, Omni channel Fulfillment services (both B2B and e-commerce), SAAS platform, Reverse logistics, integrated one stop supply chain solutions.
Godamwale provides customized and affordable B2B and B2C warehousing, 3PL, and fulfillment solutions powered by a powerful supply chain platform to lower costs, increase sales, reduce delivery time, and improve customer experience. The company provides a technology powered flexible and agile warehousing & 3PL solutions in more than 129 cities including Delhi NCR
Godamwale's model of flexible warehousing with no long term commitments on space and tenure and helps companies sync their sales cycle with warehousing. The entire warehousing network is layered by its proprietary supply chain software which provides real time end to end visibility with analytics to take faster and smarter supply chain decisions.
The technology helps the companies to track and manage the product from manufacturing to retailers/distributors and end customers based on attributes like LOT no/batch no/serial no. It provides 100% inventory and order accuracy and implements user based transactional controls like FIFO, FEFO LEFO.
With state of art facilities, trained manpower, standardized operating procedure, and cloud-based supply chain technology, Godamwale ensures the same level of services across its warehouses throughout the country. In NCR region, it has a warehouse and 3PL in Bamnoli village (Dwarka), Mundka, Alipur, Garhi, Farukhnagar, Ghaziabad-Meerut industrial area, and greater Noida.
AWL INDIA
Established: 2007
Founder: Rahul Mehra
Expertise: Supply chain consulting, warehousing, order Fulfillment, Reverse logistics, State of the Art infrastructure
AWL India started in Gurugram to provide top-notch services and assisted many global businesses to have their supply chain aligned in Delhi NCR, through their robust infrastructure and services. They are the pioneers in Delhi NCR when it comes to advanced warehousing infrastructure and technology.
AAJ ENTERPRISES
Established: 2010
Founder: Anil Kumar Jain
Expertise: warehousing & Storage, Full Truck Load, Part Truck Load, State of the Art infrastructure
AAJ Enterprises is among the top 3PL players in NCR. It is pioneered in operating huge multi-client facilities across NCR. Currently, they have a 3 lakhs sqft warehouse in Kundli, Ghaziabad with all modern amenities like Verticals racking systems, own software to manage the inventory, etc. Recently they added another state of the art facility at Sonepat spanning across 1.5 lakhs sqft.
They have a strong presence in the last mile delivery segment through FTL and PTL. They started a new PTL service named as AAJ Swift, which provides PTL service throughout the country.
SAFEXPRESS
Established: 2009
Founder: Pawan Jain
Expertise: End-to-end supply chain solutions, Multi modal Transportation, supply chain consulting, Reverse Logistics
Safexpress began its journey in 1997 with a mission of delivering logistics excellence to its customers and ensuring their success. It offers a wide range of innovative supply chain services including Express Distribution, 3PL, and Consulting. The firm provides value-added logistics services for 9 different business verticals ranging from Apparel & Lifestyle, E-commerce, Healthcare, Hi-Tech, Publishing to Automotive, Engineering & Electrical Hardware, FMCG & Consumer Electronics, and Institutional.
Safexpress offers cutting-edge logistics solutions to its customers, enabling them to focus on their core competencies. The firm adds maximum value to businesses at every level, right from providing world-class warehousing support to ensuring time-definite deliveries of goods anywhere in India.
HOLISOL LOGISTICS
Established: 2009
Founder: Manish Ahuja, Naveen Rawat, Rahul S Dogar
Expertise: Supply chain consulting, Fulfillment Center, Hyper local fulfillment solution, integrated packaging and logistics, Transportation
Holisol started back in 2009 in the south Delhi region. Now it is a leading supply chain organization offering end to end solutions enabled by technology for customer's business. They strengthened their presence in the new hyper local fulfillment solutions through their strategically placed dark stores throughout the NCR. Currently it has a 1.25 mn sqft area under management and 125+ dark stores throughout the country.
OM TRANS LOGISTICS LTD
Established: 2008
Founder: Ajay Singhal
Expertise: warehousing and distribution, logistics, customs and shipping, brokerage, land, sea, air transportation, and freight forwarding services
Om Trans Logistics is among the top Freight Forwarding and logistics companies that are aimed at delivering the best logistic practices to their customers in Delhi NCR. Om Trans has developed a complete range of services to respond to the logistics and transportation needs comprising of Air, Ocean and Land transportation services, brokerage and customs consulting services, warehousing and distribution.
GLAUCUS
Established: 2015
Founder: Vivek Kalra
Expertise: Omni channel Logistics Solutions, Transportation, Warehousing services
The core area of expertise for Glaucus is operation management, which involves ensuring inventory accuracy, offering affordable shipping, and accelerating order delivery. Their automated TMS assists with vendor selection based on price and services, as well as with the creation of shipping labels and dockets. Their automatic reconciliation and simplification of goods, invoicing, and logistical services are what distinguishes them as the best logistics provider.
Conclusion
3PL (Third-Party Logistics) is important because it allows businesses to outsource their logistics operations to specialized experts. It brings cost efficiency, scalability, and flexibility to supply chains, enabling companies to focus on core competencies while benefiting from streamlined and optimized logistics processes. 3PL providers offer expertise, technology, and global reach, reducing lead times, improving customer service, and mitigating supply chain risks. 3PL plays a critical role in enhancing supply chain efficiency and contributing to business growth and success. When choosing a 3PL provider in Delhi, companies should consider key factors such as location, available manpower and transport, infrastructure, technology capabilities, and expertise in handling operations
Redefine your supply chain
Mumbai- The hub of Indian chemical supply chain
The chemical supply chain in Mumbai, India, holds a crucial position within the nation's chemical industry. As a prominent commercial and industrial center, Mumbai plays a vital and influential role in facilitating the distribution and trade of chemicals. Below are several noteworthy aspects concerning the chemical supply chain in this city:
Chemical Manufacturing: Mumbai, India, is home to a diverse and thriving chemical manufacturing sector, boasting numerous companies that produce a wide array of chemical products. This dynamic industry encompasses the production of industrial chemicals, specialty chemicals, pharmaceutical intermediates, and agrochemicals. These manufacturing companies have strategically established their facilities in and around Mumbai, allowing them to efficiently supply their chemical products to both domestic and international markets. The chemical manufacturing companies in Mumbai play a crucial role in meeting the demands of various industries. Industrial chemicals cater to sectors like manufacturing, construction, and automotive, while specialty chemicals serve specific applications in areas such as textiles, paints, and electronics. Additionally, pharmaceutical intermediates are essential ingredients used in the production of pharmaceutical drugs, and agrochemicals contribute to agricultural advancements and crop protection.
Port Infrastructure: Mumbai's chemical supply chain benefits greatly from its well-developed port infrastructure. The city boasts two major ports, namely Jawaharlal Nehru Port Trust (JNPT) and Mumbai Port Trust, which serve as crucial gateways for importing and exporting chemicals. These ports have dedicated terminals and facilities designed to handle liquid chemicals, bulk chemicals, and containerized chemical shipments efficiently.
Storage and Warehousing: There is robust network of chemical storage and warehousing facilities in mumbai. Private, public, and bonded warehouses, along with specialized storage options for hazardous materials and temperature-controlled products, are available to cater to specific requirements.
Logistics and Transportation: Mumbai's extensive transportation network, encompassing roadways, railways, and airways, facilitates the seamless movement of chemicals within the city and to other parts of India. Road transport is particularly significant for transporting chemical consignments to and from manufacturing facilities, storage locations, and ports. Railways and air cargo services are also utilized for long-distance transportation.
Regulatory Compliance: The chemical supply chain in Mumbai adheres to various regulatory frameworks to ensure safety, environmental compliance, and quality standards. Regulatory authorities like the Central Pollution Control Board (CPCB) and the Maharashtra Pollution Control Board (MPCB) monitor compliance with pollution control measures and safety protocols. Additionally, the transportation and handling of hazardous chemicals are strictly regulated by the Department of Explosives and other relevant agencies.
Trade and Distribution: Mumbai holds a prominent status as a major trading and distribution hub for chemicals in India. The city's strategic location and robust infrastructure make it an ideal center for chemical trade activities. Within Mumbai, numerous chemical traders, distributors, and agents operate, forming a well-connected network that facilitates the smooth movement of chemicals from manufacturers to end-users across the country.
Market Demand: Mumbai's strategic geographical location, coupled with its proximity to key industrial sectors, drives a robust market demand for chemicals in the region. The city's position as a commercial and industrial hub ensures its accessibility to various industries, creating a thriving market for chemical products. Several sectors, including pharmaceuticals, textiles, paints and coatings, plastics, and agriculture, significantly contribute to the strong demand for chemicals in Mumbai.
How to set up efficient supply chain for chemical distribution
Setting up a chemical supply chain in Mumbai requires careful planning, adherence to regulations, and a focus on safety and efficiency. Here are the key steps to establish a successful chemical supply business in the city:
Market Research: Conduct thorough market research to understand the demand for chemicals in Mumbai and identify potential customers, industries, and market segments. Analyze market trends, competitors, pricing, and regulatory requirements specific to the chemical industry.
Define Supply Chain Requirements: Determine your supply chain requirements, including the types of chemicals you will handle, storage capacity, transportation needs, warehousing infrastructure, and logistics capabilities. Consider factors like handling hazardous materials, temperature control requirements, and any specialized storage or transportation needs.
Regulatory Compliance: Familiarize yourself with the regulatory framework for handling and transporting chemicals in Mumbai. Understand the permits, licenses, and compliance requirements set by local and national authorities. Ensure compliance with safety, environmental, and transportation regulations to operate legally and safely.
Infrastructure and Facilities: Identify suitable facilities for chemical storage and warehousing in Mumbai. Evaluate options for leased or owned warehouses that meet safety standards, have necessary infrastructure for handling chemicals, and are located strategically for efficient transportation and distribution.
Transportation and Logistics: Establish partnerships with reliable transportation and logistics providers with expertise in handling chemicals. Ensure they have the necessary permits, equipment, and experience to transport chemicals safely and efficiently within Mumbai and to other destinations.
Supplier and Customer Network: Build a network of reliable suppliers for sourcing chemicals and establish relationships with potential customers. Consider attending industry trade shows, conferences, and networking events to connect with key stakeholders in the chemical industry in Mumbai.
Safety Protocols: Develop robust safety protocols and standard operating procedures (SOPs) for handling, storing, and transporting chemicals. Train your staff on safety procedures, emergency response, and proper handling practices. Implement measures to mitigate risks, prevent accidents, and protect personnel, facilities, and the environment.
Technology and Systems: Invest in suitable technology systems for managing your chemical supply chain, including inventory management, tracking and tracing, quality control, and documentation. Explore the use of specialized software or platforms that can streamline operations and improve visibility across the supply chain.
Partnerships and Collaborations: Collaborate with industry associations, trade organizations, and research institutions in Mumbai to stay updated on industry developments, regulations, and best practices. Engage with partners who can provide complementary services, such as waste management, recycling, or specialized testing facilities.
Continuous Improvement: Regularly evaluate and improve your chemical supply chain operations. Monitor key performance indicators (KPIs), seek feedback from customers and partners, and continuously optimize processes to enhance efficiency, reduce costs, and meet evolving market demands.
By following these steps and committing to ongoing improvement and compliance, you can successfully establish a chemical supply chain in Mumbai.
How to find a perfect 3PL warehousing company for chemicals
After defining your requirements for chemical warehousing, follow these steps to select the most suitable company:
Research and Shortlist: Use various resources to identify chemical warehousing companies in Mumbai. Create a shortlist of companies that align with your requirements and appear to be reputable and experienced in the industry.
Assess Reputation and Experience: Evaluate the shortlisted companies' reputation and experience. Look for client testimonials, case studies, and industry certifications to gauge their credibility and expertise.
Safety and Compliance: Prioritize safety and compliance in your selection process. Choose companies that adhere to safety regulations and possess certifications such as Responsible Care and ISO standards. Verify their safety track record and emergency response capabilities.
Infrastructure and Facilities: Review the infrastructure and facilities offered by the shortlisted companies. Ensure they have the necessary storage capacity and appropriate storage conditions for your specific chemicals. Consider security systems, pest control measures, and packaging capabilities.
Network and Transportation: Assess the company's transportation capabilities and logistics network. Verify their connectivity to major transportation hubs to ensure efficient inbound and outbound transportation of chemicals.
Customization and Value-Added Services: Determine if the companies can provide customized solutions to meet your unique needs. Look for value-added services such as inventory management, order fulfillment, labeling, and documentation support.
Visit and Evaluate: If possible, visit the facilities of the shortlisted companies to observe their operations and discuss your requirements in detail. This firsthand evaluation will help you assess their professionalism and responsiveness.
Seek Recommendations and References: Seek recommendations and references from industry contacts and trade associations. Their insights can provide valuable guidance in your decision-making process.
Request Proposals and Compare: Request detailed proposals from the shortlisted companies, outlining their services and pricing. Compare the proposals based on quality, cost-effectiveness, and added value.
Make an Informed Decision: Based on your evaluation, compare the shortlisted companies and make an informed decision that aligns with your requirements and budget.
By following these steps, you can select a reliable and competent chemical warehousing company in Mumbai that ensures the safe and efficient storage of your chemicals.
Best 3PL & warehousing companies for chemicals in mumbai
Godamwale: Godamwale, a supply chain company specialised in handling chemicals is founded and lead by chemical engineers from IIT. The company provides a technology powered flexible and agile warehousing & 3PL solutions in more than 129 cities including Mumbai.
Godamwale provides flexible warehousing with no long term commitments on space and tenure and helps companies sync their sales cycle with warehousing. Its extensive network of warehouses powered by technology is helping companies lower cost, increase sales, reduce delivery time and improve customer experience. The entire warehousing network is layered by its proprietary supply chain software which provides real time end to end visibility with analytics to take faster and smarter supply chain decisions.
The technology helps the chemical companies to track and manage the product from manufacturing to retailers/distributors and end customers based on attributes like LOT no/batch no. It provides 100% inventory and order accuracy and implements user based transactional controls like FIFO, FEFO LEFO.
The godamwale's facilities follows all the safety compliances equipped with trained manpower to handle chemicals with any kind of volume and complexity of operations.
DB Schenker: As a global logistics company, DB Schenker has a presence in Mumbai and provides comprehensive supply chain solutions, including chemical warehousing and distribution services. Their expertise in handling various types of chemicals ensures compliance with safety regulations.
Agility Logistics: As a leading global logistics provider, Agility Logistics offers a diverse range of services, including specialized chemical warehousing in Mumbai. Their facilities are designed to ensure compliance with safety and environmental standards
Chemplast International: Operating in Mumbai, Chemplast International specializes in chemical warehousing and distribution. They provide customized solutions for chemical storage, handling, and distribution, catering to the specific needs of clients in the chemical industry.
Impact of Global scenarios on Indian chemical supply chain
The interconnectedness of the chemical industry worldwide necessitates that Indian chemical manufacturers remain aware of and adaptable to changes in global factors.
Indian chemical manufacturers need to be proactive and adaptive to navigate these challenges and leverage opportunities arising from global scenarios.
To ensure a robust and resilient supply chain, Indian chemical manufacturers can take several strategic steps:
Raw material availability: It significantly influences the Indian chemical supply chain, as the country heavily relies on imports for a considerable portion of the raw materials used in chemical manufacturing. Global factors, including fluctuations in commodity prices, the accessibility of critical raw materials, and geopolitical developments, can directly affect the cost and availability of these inputs. Consequently, any disruptions or alterations in the global supply and demand dynamics can have a direct and notable impact on the functioning of the Indian chemical supply chain.
Global demand: The demand for chemical products is subject to global market trends and customer preferences, which are influenced by economic conditions and regulatory changes in international markets. Indian chemical manufacturers must be responsive to these dynamic global scenarios to effectively align their production and distribution strategies to meet the evolving demand for their products.
Trade policies: Trade policies, tariffs, and international trade agreements play a crucial role in shaping the import and export of chemicals. Changes in these factors can have a significant impact on the Indian chemical supply chain. The presence of trade barriers or favorable trade agreements with key partners can influence market access, competition, and pricing for Indian chemical manufacturers. As global trade dynamics shift, it can bring about further changes and implications for the industry.
Technology: Technology and innovation play a pivotal role in determining the competitiveness and efficiency of the Indian chemical industry, with global advancements in chemical technology significantly impacting its landscape. To maintain a competitive edge and bolster supply chain capabilities, it is essential for Indian chemical manufacturers to stay updated with global technological trends, embracing digitalization, automation, and sustainable manufacturing practices.
Supply Chain Disruptions: The Indian chemical industry, like any other global supply chain, is vulnerable to disruptions caused by natural disasters, political unrest, or pandemics. Such events can lead to raw material shortages, transportation challenges, delivery delays, and increased costs. To tackle these challenges, Indian chemical manufacturers must have robust contingency plans and risk mitigation strategies in place to address potential global supply chain disruptions effectively.
Collaboration and Partnerships: Indian chemical manufacturers often engage in collaborations and partnerships with international players for various purposes, such as technology transfer, joint ventures, and research and development activities. These strategic partnerships enable them to tap into global expertise, leverage international networks, and stay updated with the latest global market trends. Such collaborations are instrumental in enhancing the capabilities and competitiveness of the Indian chemical supply chain.
Global Awareness and Adaptation: It is vital for Indian chemical manufacturers to closely monitor global scenarios, participate actively in international forums and industry associations, and maintain strong global networks. By doing so, they can stay informed about evolving global dynamics, regulatory changes, and market demands.
Adapting to these factors enables Indian chemical manufacturers to navigate the global landscape more effectively and optimize their supply chain strategies to remain competitive in the international arena.
Importance of Agility in chemical supply chain
Agility within the chemical supply chain refers to the capacity to swiftly and efficiently adapt to industry changes, uncertainties, and challenges. This involves cultivating flexibility, adaptability, and proactive management of supply chain processes to meet customer demands, optimize operations, and mitigate risks.
Here are some fundamental aspects of agility within the chemical supply chain:
Responsive to Customer Demand: Supply chain agility entails promptly responding to fluctuations in customer demand. Achieving this requires real-time visibility of market demand, accurate forecasting, and the ability to adjust production, inventory levels, and distribution to meet ever-changing customer needs.
Optimal Inventory Management: Agility in the chemical supply chain necessitates optimizing inventory levels to strike a balance between supply and demand. Implementing effective inventory management strategies, such as just-in-time (JIT) practices, lean principles, and demand-driven planning, enables faster responses to changes and minimizes holding costs by avoiding excess inventory.
Collaborative Supplier Relationships: Building collaborative partnerships with suppliers is vital for supply chain agility. Close collaboration facilitates better communication, information sharing, and joint problem-solving. This empowers quick adjustments in procurement, sourcing, and supplier selection to adapt to market fluctuations or unexpected disruptions.
Production Flexibility: Supply chain agility in the chemical industry involves having production capabilities that can swiftly adapt to changes in demand or product mix. Implementing flexible manufacturing processes, such as modular production lines, agile production scheduling, and multi-product capabilities, allows for rapid shifts in production volumes or product variations to meet dynamic market requirements.
Efficient Logistics and Transportation: Agility relies on efficient logistics and transportation capabilities to ensure the timely and reliable movement of chemicals. Establishing a well-connected logistics network, leveraging technology for real-time tracking, and maintaining relationships with reliable carriers contribute to supply chain responsiveness and agility.
Integration of Advanced Technologies: Leveraging advanced technologies and digital solutions enhances agility within the chemical supply chain. Utilizing technologies like predictive analytics, AI-driven demand forecasting, IoT-enabled tracking systems, and cloud-based platforms allows for real-time visibility, data-driven decision-making, and efficient collaboration across the supply chain.
Cultivating Continuous Improvement: Agility requires fostering a culture of continuous improvement within the organization. Encouraging innovation, promoting a learning mindset, and regularly evaluating and optimizing supply chain processes and performance contribute to increasing agility over time.
By embracing supply chain agility, chemical companies can effectively respond to market dynamics, meet customer demands, and address unforeseen challenges. This ability to adapt and respond efficiently enables companies to remain competitive, reduce costs, enhance customer satisfaction
Godamwale provides best of technology and infrastructure in more than 129 cities to orchestrate and optimise chemical supply cain across india from one platform and one network.
Redefine your chemical supply chain
Third-party logistics (3PL) involves outsourcing e-commerce logistics functions to expert fulfillment companies, like Godamwale, which store inventory, pick orders, and ship them out. This saves time on logistics, allowing businesses to focus on growth. Choose a reliable, transparent partner for efficient and sustainable growth.
What does a 3PL do?
Every 3PL is different, yet they all provide the same core services. Order fulfillment is the key ingredient of many 3PLs. These partners offer:
Inventory storage
Inventory management
Order processing
Picking
Packing
Shipping
What are the benefits of choosing Third-party Logistics?
Partnering with a 3PL company can bring several benefits to your business. These include:
Cost savings: 3PL providers can leverage economies of scale, shared resources, and expertise to reduce logistics costs compared to in-house operations.
Expertise and specialization: 3PL companies possess industry-specific knowledge, best practices, and the latest technologies to enhance logistics operations.
Scalability and flexibility: 3PLs offer flexible solutions that can be scaled up or down based on your business needs, providing agility to adapt to market fluctuations.
Focus on core competencies: Outsourcing logistics functions to a 3PL allows your company to focus on core business activities and strategic initiatives.
Improved customer experience: 3PLs can optimize order fulfillment processes, ensuring timely deliveries and enhancing customer satisfaction.
How can Godamwale help you with 3PL and inventory management?
At Godamwale, we understand the challenges faced on a daily basis when it comes to inventory management. That's why we have developed our own cutting-edge software called INCIFLO. This innovative solution is designed to track and manage your inventory in real-time, ensuring seamless operations and optimal efficiency.
With the increasing complexity and scale of supply chains, the role of third-party logistics (3PL) providers has become vital. INCIFLO empowers 3PL companies to streamline their operations by providing comprehensive visibility into inventory levels, locations, and movements. This enables them to make informed decisions and deliver superior services to their clients.
Furthermore, INCIFLO integrates seamlessly with warehouse management systems (WMS), creating a powerful synergy that enhances inventory control and order fulfillment processes. By leveraging advanced algorithms and data analytics, the software optimizes the allocation of resources, minimizes stockouts, and reduces excess inventory. The result is improved order accuracy, faster cycle times, and enhanced customer satisfaction.

Moreover, INCIFLO offers customizable dashboards and reports that provide comprehensive insights into inventory performance and trends. This empowers businesses to make data-driven decisions, optimize inventory levels, and identify areas for improvement. With the ability to generate accurate forecasts and anticipate demand fluctuations, companies can proactively manage their inventory and stay ahead of the competition.
In summary, INCIFLO is a game-changing software solution developed by Godamwale to address the challenges faced by businesses in managing their inventory effectively. By combining the power of 3PL and WMS integration, real-time tracking, and advanced analytics, INCIFLO empowers companies to achieve optimal inventory control, streamline operations, and drive growth.
How you can scale your business with Godamwale/Inciflo?
INCIFLO integrates directly with Godamwale so that orders placed on your website are automatically processed, picked, packed, and shipped from one of its fulfillment centers.
The company has spread across 350 cities across PAN India, so you have the option to sell nationally. Godamwale also partners with dozens of major retailers, so you can get your products onto store shelves and dropship them directly to customers.
You can manage your inventory through INCIFLO's dashboard, which provides real-time insight into stock and orders. Then you can use those metrics to optimize for speed and cost while trusting your 3PL partner to deliver your orders.
Learn more about our WMS with our experts. 
---
Mumbai, the financial capital of India, is not only a hub of business and commerce but also boasts a thriving logistics industry. In this blog post, we will delve into the world of third-party logistics (3PL) services in Mumbai and explore how they contribute to streamlining supply chains and optimizing operations.
Strategic Location and Port Connectivity:
Mumbai's strategic location on the western coast of India positions it as a vital gateway for international trade. The city is home to the Jawaharlal Nehru Port Trust (JNPT), one of the busiest container ports in India. 3PL services in Mumbai leverage this connectivity to facilitate seamless import and export operations, including customs clearance, warehousing, and transportation management.
Comprehensive Warehousing Solutions:
With its rapid urbanization and limited space, Mumbai faces significant challenges when it comes to warehousing. 3PL providers in the city offer innovative warehousing solutions that optimize storage space and improve inventory management. These services include modern warehouses equipped with advanced technologies like warehouse management systems (WMS), RFID tracking, and automated picking systems.
Last-Mile Delivery Excellence:
Navigating Mumbai's bustling streets and heavy traffic can be a logistical nightmare. 3PL services in Mumbai specialize in efficient last-mile delivery, ensuring that goods reach their intended destinations promptly. They employ advanced routing and tracking systems, real-time visibility, and experienced delivery personnel who are familiar with the city's intricate logistics network.
E-commerce Fulfillment:
As e-commerce continues to flourish in India, Mumbai serves as a prominent center for online retail operations. 3PL providers in Mumbai offer specialized e-commerce fulfillment services, including order processing, pick and pack, and reverse logistics. These services enable e-commerce businesses to scale their operations, improve customer satisfaction, and achieve faster order fulfillment.
Value-Added Services and Supply Chain Optimization:
In addition to traditional logistics services, 3PL providers in Mumbai offer value-added services to enhance supply chain efficiency. These include kitting and assembly, labeling, repackaging, quality control, and vendor-managed inventory. By outsourcing these tasks to 3PL partners, businesses can focus on their core competencies while benefiting from cost savings and improved operational agility.
Conclusion:
Mumbai's vibrant logistics industry, coupled with the extensive range of 3PL services available, presents a wealth of opportunities for businesses seeking to optimize their supply chains. Whether it's leveraging strategic port connectivity, efficient last-mile delivery, e-commerce fulfillment capabilities, or value-added services, partnering with 3PL providers in Mumbai can significantly streamline operations, reduce costs, and enhance customer satisfaction. As Mumbai continues to thrive as a commercial hub, embracing the expertise of 3PL services is crucial for businesses aiming to stay competitive and meet the evolving demands of the market.
In today's rapidly evolving business landscape, supply chain flexibility is crucial to meet changing market demands and stay ahead of the competition. Traditional static warehousing models may no longer suffice. That's where flexible warehousing comes into play. Flexible warehousing enables businesses to adapt their storage needs quickly, scale operations, and optimize inventory management. In this blog post, we will explore the concept of flexible warehousing and the benefits it offers for creating agile and efficient supply chains.
On-Demand Scalability:
One of the key advantages of flexible warehousing is its on-demand scalability. Unlike traditional warehouses with fixed space allocations, flexible warehousing solutions allow businesses to adjust their storage capacity based on fluctuating inventory levels or seasonal demands. Whether you need additional space for peak seasons or want to downsize during slower periods, flexible warehousing providers can accommodate these changes swiftly. This scalability helps optimize costs by paying for space only when it's needed.
Geographic Reach and Proximity:
Flexible warehousing provides an opportunity to establish a presence in new geographic locations without the need for significant investments in owned facilities. By partnering with flexible warehousing providers strategically located near key markets or distribution hubs, businesses can reduce transportation costs and lead times. It enables faster order fulfillment, improved customer satisfaction, and greater market reach.
Multi-Channel Fulfillment:
The rise of e-commerce and omnichannel retail has introduced complexities to fulfillment operations. Flexible warehousing providers are equipped to handle multiple sales channels, including brick-and-mortar retail, online marketplaces, and direct-to-consumer shipments. They can integrate with various order management systems, implement efficient picking and packing processes, and facilitate seamless order routing, enabling businesses to fulfill orders across channels efficiently.
Technology Integration:
Flexible warehousing providers leverage advanced technologies to enhance operational efficiency and inventory visibility. They employ warehouse management systems (WMS) and automation tools to streamline processes, track inventory in real-time, and optimize space utilization. With access to such technology, businesses can gain insights into their inventory levels, monitor performance metrics, and make data-driven decisions to further improve supply chain operations.
Value-Added Services:
Flexible warehousing providers often offer value-added services beyond storage, such as kitting, labeling, and product customization. These services can help businesses reduce lead times, improve order accuracy, and enhance the overall customer experience. Additionally, flexible warehousing providers may have expertise in specialized industries or compliance requirements, enabling businesses to tap into their knowledge and benefit from industry-specific solutions.
Conclusion:
Flexible warehousing has emerged as a game-changer for businesses seeking agility, scalability, and cost optimization in their supply chains. By embracing flexible warehousing solutions, businesses can adapt to changing market demands, scale their operations efficiently, and optimize inventory management. The geographic reach, multi-channel capabilities, and technology integration offered by flexible warehousing providers empower businesses to meet customer expectations and gain a competitive edge. Embrace the power of flexible warehousing to build an agile supply chain that can thrive in today's dynamic business environment.
What is a Warehouse?
Warehouse is an essential hub for businesses, providing a spacious and organized area to store and control the flow of goods, materials, and products. These large commercial buildings or facilities are meticulously designed to efficiently handle storage, management, and distribution operations.
Warehousing plays a vital role in supply chains and logistics systems. They serve as crucial temporary storage hubs, ensuring efficient management and organization of goods before they are ultimately distributed or shipped to their intended destinations. Having well-managed warehouses is essential for smooth and seamless operations within the supply chain.
Top features of warehouse:
Storage: Warehouses are primarily used for the safe and secure storage of goods. They are equipped with racks, shelves, or storage systems to organize and store products efficiently.
Inventory Management: The world of inventory management has come a long way, and warehouses are now utilizing SaaS technologies and sophisticated systems like Inciflo to keep track of their inventory levels. This ensures greater accuracy, efficiency, and overall control over the entire inventory management process.
Distribution: Distribution is a critical aspect of warehouse operations, as they often double up as efficient distribution centers. These warehouses play a vital role in fulfilling customer orders and meeting the needs of other businesses by carefully picking, packing, and shipping goods.
Cross Docking: Cross-docking is a highly efficient system employed by warehouses to streamline operations. Instead of storing goods for an extended period, they are received and promptly transferred to outbound vehicles.
Safety and Security: Warehouses take safety and security seriously by implementing robust measures to prevent theft, damage, and unauthorized access. This includes advanced security cameras, state-of-the-art alarm systems, and reliable access control systems.
Types of warehouse:
Public warehouses: Public warehouses, operated by third-party logistics (3PL) providers, offer storage and distribution services to multiple businesses. They are a popular choice for companies in need of flexible or seasonal storage options.
Private warehouses: Private warehouses refer to facilities that are owned and operated by a single company or organization. These warehouses are dedicated solely to fulfilling the storage and distribution needs of that particular company.
Distribution centers: Distribution centers are warehouses that have a specific focus on efficiently distributing goods to customers or retail locations. These centers are strategically located in order to minimize transportation costs and ensure timely delivery to end-users.
Fulfillment centers: Fulfillment centers are specialized warehouses used by e-commerce companies. They store products, pick and pack orders, and manage shipping to individual customers. These facilities often leverage automation and advanced technology to expedite order processing.
Cold storages: Cold storage warehouses are essential for maintaining low temperatures to store perishable items such as food, pharmaceuticals, and chemicals. These warehouses are equipped with refrigeration or freezing capabilities to ensure the preservation of product quality.
Chemical Warehouses: Chemical warehouses are specifically designed to safely store and handle dangerous or hazardous materials, such as chemicals, explosives, or flammable substances. These warehouses strictly adhere to rigorous safety regulations to ensure the utmost safety and security.
The Rise of Logistics industries:
Logistics (which comprises transportation, storing of goods, Warehousing, materials handling, and packaging) is the process of transferring the goods from the point of origin to the final destination which is the point of consumption. With time, the logistics industry is seeing significant growth in India and has become a major focus for the Indian government in the past few years. Out of the three verticals, the major vertical of logistics is warehousing constitutes nearly 15-35% of the total logistical cost.
Earlier what only referred to the storage of goods has now evolved from its primary function and now also includes value-added services such as sorting, packing, blending, and processing. In India, the warehousing market is highly fragmented with most of the warehouses having an area of less than 10,000 sq. ft. Approximately 90% of the warehousing space in the country is controlled by unorganized players, which manage small-sized warehouses with limited mechanization. Lately, due to the growing attention towards the warehousing industry, the sectors have been attracting investments from international players which are propelling the formalization of the same.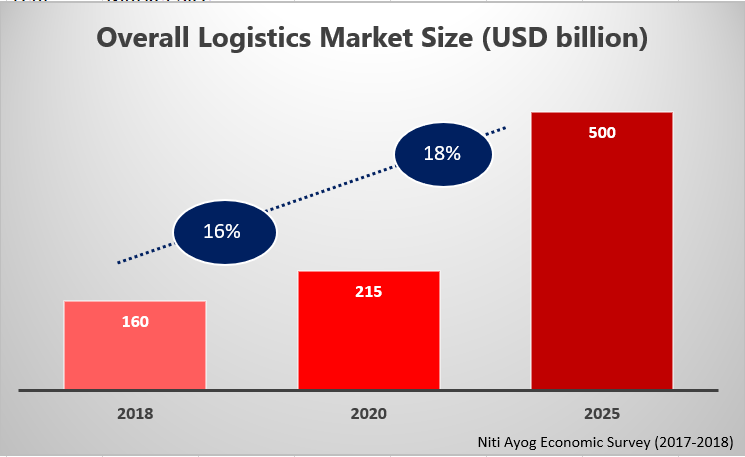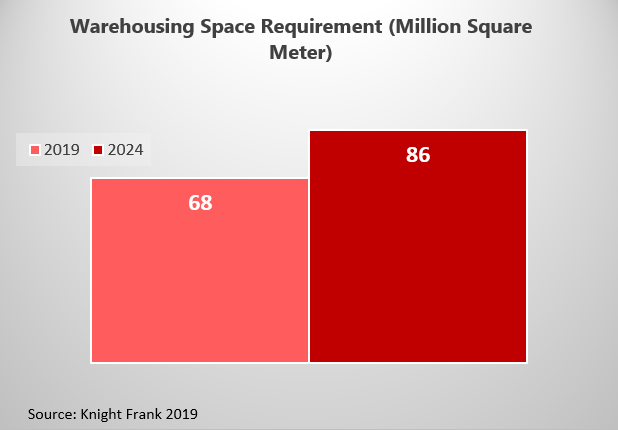 With the evolution of the organized retails sector, modern warehouses for the storage of perishable goods have become essential and have become the backbone of the manufacturing and e-commerce industry. Based on the construction and the amenities provided, there are two types of warehouses, Grade A and Grade B warehouses.
To elaborate on the same Grade A warehouses are usually labeled superior based on their construction, quality, amenities provided like fire-fighting systems, CCTV surveillance, building insulations, LED lights, security systems, and clients among others. Grade B warehouses on the other hand are basic warehouses with essential services. In India, still, Grade B warehouses hold a larger share of warehouse stock as well as net absorption, but with the technological advancement and rapid growth of this sector in the logistic industry Grade A warehouses have witnessed growth with time.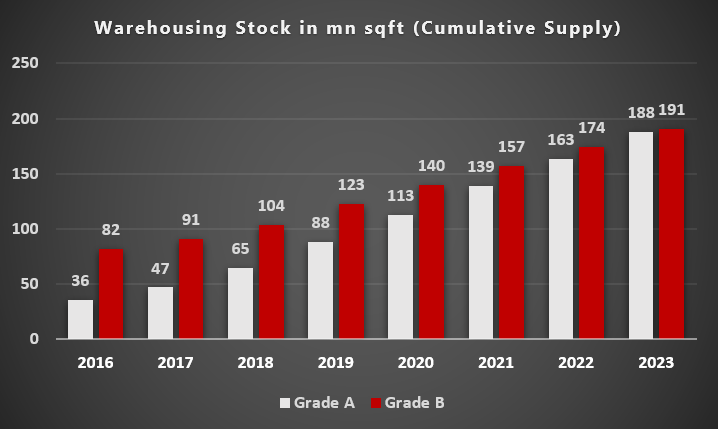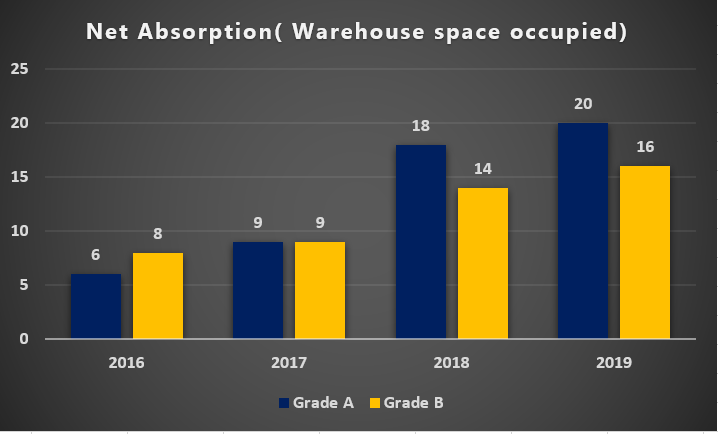 With the changing times, the logistics industry is believed to witness high growth along with the rise in warehouse space requirements. Several e-commerce companies and retailers have been facing a major fluctuation in customer demands due to which they have to be dynamic in their approach as well as the choice of types of warehouse and its location.
Godamwale, one of India's largest logistic network is helping these companies by providing them with the warehouse of their choice(Grade A and Grade B) and at a location of their need to aid them in managing their inventory in the most efficient manner and deliver their products to every corner of the country with a reduce cost and a reduced Turnaround time. Our Key services include On-demand warehousing, 3PL and E-commerce and B2B Fulfillment centers with on-demand scalability providing flexible, efficient & profitable end to end Omnichannel supply chain solution for companies of all sizes.
This blog is written by Mriganka Garg, she is currently pursuing her MBA from IIM Raipur.
What is Import and Export?
An item that's exchanged or sold from a party in one nation to a party in another nation is an export from the originating nation, and an import to the nation accepting that item. Trading globally may allow customers and nations the opportunity to be exposed to new markets and items.
Importing raw materials and merchandise is one of the ways of increasing the benefit margins. The importer can have the much cheaper items from the outside market due to low labor cost, low charges etc. in terms of quality, the importer can have the higher quality merchandise. An importer can get to the regionally exclusive assets and cheap labor for creating the products. These resources are required within the fabricating process that have specialized skills and can be found in certain nations. For example, in electronic things, Japanese individuals are exceedingly productive and manufacturers in UK utilize the expertise from Japanese showcase for creating merchandise.
There's low investment requirement in exporting of products than the other modes of international exchange and extension of such foreign direct investment.
Why you need import and export license in India?
In India, the Directorate General of Foreign Trade (DGFT) under the Ministry of Commerce and Industry plays a crucial role in regulating the import and export of goods. To engage in this international trade, individuals and businesses are required to obtain Importer Exporter Code (IEC) certificates, also known as import and export licenses. This requirement serves various important purposes:
Compliance with Regulations: Getting an Importer-Exporter Code (IEC) is a must for individuals and businesses involved in trading goods and services across borders. This helps the government keep track and control the flow of goods in and out of the country.
Customs Authorization: When going through customs, importers and exporters must provide their IEC details to customs authorities. If you don't have a valid IEC, it can cause delays or denials during customs clearance.
Foreign Currency Oversight: Banks and financial institutions use the IEC to keep an eye on and manage foreign currency transactions related to international trade. This makes it easier to receive earnings in foreign currency and make payments for imported goods.
Compilation of Statistical Information: The government uses IEC information to gather important data about foreign trade. This data is crucial for making economic plans, forming policies, and keeping an eye on trade imbalances.
Government Advantages: Having a valid IEC can make businesses eligible for government incentives, benefits, and programs aimed at supporting international trade. These can include export rewards, duty refunds, and benefits outlined in the Foreign Trade Policy.
Global Credibility: An IEC shows that a business is registered with the government and has been checked thoroughly. This builds trust among international partners and boosts the credibility of businesses involved in international trade.
Banking Transactions: Banks often require an IEC for handling various international transactions, like setting up and maintaining foreign currency accounts, obtaining trade credits, and following Reserve Bank of India (RBI) guidelines.
Legally Mandated Requirement: According to the Foreign Trade (Development and Regulation) Act of 1992 and India's Foreign Trade Policy, individuals and businesses must get an IEC certificate if they plan to engage in importing or exporting goods and services.
List of documents to be attached with the application form for an Export License
ANF-1 form, which includes the 'Profile of Exporter and Importer,' and ANF-2N form for the Export License of restricted items.
A copy of the purchase order/import order from the foreign purchaser or a contract agreement between the two parties.
Evidence of online payment for the application fee.
A photocopy of the PAN Card.
A copy of an identity proof document.
Valid address proof
A bank certificate or a canceled cheque
If the property is rented, a No Objection Certificate (NOC) may be required.
How to get Import Export license in India?
The first step to get into import export market is the license to trade. The below steps explain the procedure to acquire import export (IEC) license in India.
Import Export License:
If you want to do international trade i.e. Import/ Export business, import Export License is mandatory. You have to apply for import Export code through Directorate general of foreign trade (DGFT) portal.
The Import Export Code is issued by The Director General of Foreign Trade, and it is basically a 10-digit code that's substantial for the lifetime of the trade. Importers will not be permitted to import commodities if they don't have the Import Export Code, and exporters will not be able to claim export benefits unless they have an Import Export Code.
What does Import Export License require?
In custom clearance of imported good and for exporting product
In Bill of Exchange & for receiving payment of exported product from bank
How to apply for New IEC
Basic instructions to be followed:
Firm's name, Date of incorporation should be same as per Firm's PAN.
Name of Director and Date of birth should be same in both Aadhar card and PAN card.
Account holder name should be same as Firm's Name.
For Aadhar-e-sign in last step, use virtual id or Aadhar number of Firm's Employer.
Steps by step procedure to get apply for import export license:
First of all, you have to register on the portal for that you would require,

Valid email Id and mobile number,
Continue internet connectivity.

You have to Click on Login available on the right corner of DGFT portal.
Select register and enter the registration details.
After receiving OTP on given mobile no and mail id, enter into given block and complete registration process.
You will receive a mail containing temporary password. Please reset password on your first login.
After login click on Apply IEC.
You can proceed with start fresh application or with existing application if you have saved draft
Fill all required details in the General Information Segment. 
All the Mandatory areas have been checked with a Ruddy Bullet (*). The Draft will only be saved in case the Required details within the "Basic Details" Area and "Firm Address Details" Area.

Nature of concern/ firm
Firm name (as per PAN)
Firm's PAN
Date of incorporation
Category of exporter
Firm Mobile No. (For correspondence with DGFT)- will be verified sending by OTP. It can be updated.
Firm email id (For correspondence with DGFT)- will be verified sending by OTP. It can be updated.
GSTIN
LLPIN/CIN
proof of establishment/incorporation/registration for the given entity. This supporting record is required for Partnership, Registered Society, Trust, HUF, Others.

Firm address

Address
Pin code
City
State
District
Jurisdictional DGFT RA (will be selected automatically)

Address proof: This can be any of the following.

Sale Deed, rent agreement, lease deed, electricity bill, telephone landline bill, mobile, postpaid bill, MoU.
Other acceptable documents (for proprietorship only): Aadhar card, passport, voter id.
In case the address proof isn't in the name of the candidate firm, a no-objection certificate (NOC) by the firm premise's owner in favor of the firm in conjunction with the address proof may be submitted.

Branch details if any

Enter GSTIN number,
Address-
City,
Pin code of the branch(es) linked with the above importer exporter code.
After filling all mandatory details. Click on Save and NEXT (given in the bottom right corner). You will move to the next section.

Details of proprietor/partner/ Director/Karta/Managing Trustee" Section

PAN (director)
Name (As per PAN Database)
Date of Birth
Enter Name,
Father Name
Address
Mobile number
If the Director is a foreign national, tick the check box.

Bank details:

Proof of firm's bank account
Account Number
Account Holder Name- The Account Holder name should be same as Firm Name.
IFSC code
Bank Name
Branch Name
cancelled cheque(proof)/ bank Certificate.
Other Details (Preferred sectors of operations)

Read and accept the declaration.

Tick the box as acknowledgment of declaration/undertaking and fill in the details below.
Fill place and Date.

Check the Application Summary
Click on Sign option to sign the application using digital token or Aadhaar.

Select Ok and you will be directed to next page with the signing option.
You will get two options to sign the application form, one is through Aadhar-e-sign and second is through digital signature certificate. Proceed with any one option as per your convenience for signing the application form.

If you are opting for Aadhar-e- sign,

A window will open for Aadhar Based e-Authentication on outside site.
Enter your virtual id or Aadhar number and tap Get OTP button.
You may get OTP on your number enrolled with Aadhar office.
Enter OTP and tap on submit button.

After signing the application, Confirm and proceed to make the payment against application.
Final words
The commitment to adhering to legal regulations, being vigilant about updates, and seeking expert guidance when needed are all critical factors that contribute to a seamless experience in acquiring an Import Export license. As businesses become equipped with this license, they unlock the doors to a world of trade possibilities, contributing to their growth, diversification, and integration into the global marketplace.
The E-commerce market is steadily rising in India. In 2021 the market size of e-commerce is $80 billion and is expected to rise at an exponential rate. The Covid restrictions have also caused a massive shift in the customer preference from offline to online shopping. With many e-commerce players in the Market, one of the major aspects that can help the e-commerce company to stand apart from their competitor is the fulfilment process of the goods. Fulfilment is one of the major aspects of the e-commerce shopping experience. However, there are some problems associated with it.
Some of the major problems in e-commerce fulfilment are as follows.
Managing Inventory:
Whenever there is an order for a product the first step that is required is locating the inventory. In the era of 1-2 days delivery commitment, the process of locating the inventory is important for packing the goods and preparing it for outward shipment. However, most of the warehouses suffer from the issue of delay in location of the inventory. Apart from that there are frequent cases of inability to fulfil the demand due to unavailability of inventory. The issue is prevalent for the product where the demand cycle is sporadic.
The solution lies in the WMS (Warehouse Management System), which not only helps in the active inventory tracking and storage but can also help in predicting the demand with use of AI. It provides real time information about the inventory and makes the management of inventory much easier. Most of the advanced WMS software is SaaS based. The efficiency of the inventory management depends upon the effectiveness of the system.

Damaged or Incorrect Product:
The most infuriating part as a customer is receiving incorrect or faculty products. Sometimes the product when dispatched from the warehouse is in perfect condition but due to improper handling during the shipment process the product gets damaged. Due to damaged or faulty product the return of the product is required. That incurs extra charge to be borne by the company.
To avoid it proper identification of the product along with proper labelling or barcoding is required. The staff needs to be trained to achieve that level of accuracy so that the chance of any error while packaging decreases. To prevent shipment of faculty products a proper inspection mechanism needs to be in place. Also, a proper segregation should be placed for the product according to their level of fragility, so that the necessary care could be taken while shipping the product.

Returns Management:
In e-commerce business, customers prefer the company which offers them the seamless product return process, so most of the company provides this option to their customers. Many problems are encountered in the return process right from collecting the product, inspecting it, shipping it back to warehousing and finally making it fit to be able to sell it to another customer.
It is important to have certain quick checking mechanisms to inspect the product while collecting it for return from the customer. These would ensure that the product is not in the damaged state or faculty condition. Also, as soon as the product returns to the warehouse, it is necessary to make necessary modifications in the product so that it can be resold to other customers.

Shipping Notifications:
Most of the customers expect that they are provided with their shipment tracking since they like to constantly check where their ordered product has reached. Hence it is necessary for the logistics provider to have such a system in process which provides live tracking of the customers shipment. It is necessary to have such a system in place otherwise it could result in customers calling the customer care which would cause waste of time and money.

Shipping cost:
It is the major cost involved in e-commerce logistics. So, it is utmost necessary to optimize it in a way that the customer does not feel the burden due to it and shift to alternative channels. Most of the shipping costs are based on the weight of the product but shipping cost can also be fixed according to price of products. For example, for some high value product which doesn't weigh much but for that a higher cost for shipping can be charged since even that cost would be meagre in front of the original product cost and customer wouldn't mind paying higher shipping price for a high value product. In this way the burden of shipping charges on the customers can be managed.
One of the major aspects that is to ensure that there are no major losses, is buying of the shipping insurances so that if any goods get damaged or stolen while shipping the company doesn't require to bear the full brunt of it.
In order to provide a seamless and faster delivery of the product all the above points are necessary to be kept in mind for e-commerce fulfilment. So, it is rather easier to outsource the e-commerce fulfilment part to 3rd party logistics rather than wasting their resources on it for the e-commerce company or the product manufacturer. So, while selecting a 3pl company for e-commerce fulfilment, all such points are necessarily to be checked. In another blog we will cover how to select a 3PL player and what are the important check points for same.
How can Godamwale help you to Overcome these Major Fulfilment Challenges:
Godamwale a tech enabled warehousing provider is a perfect match for modern day warehousing for both B2B and B2C companies. The company provides flexible pay per use warehousing without long term contracts or space commitment. The company provides on demand warehousing and ecommerce fulfilment in Mumbai, Delhi, Chennai, Hyderabad, Bangalore and 200+ cities in India.
This blog is written by Mr Shail Shah currently pursuing his MBA from IIM Kashipur.