What is a Warehouse?
Warehouse is an essential hub for businesses, providing a spacious and organized area to store and control the flow of goods, materials, and products. These large commercial buildings or facilities are meticulously designed to efficiently handle storage, management, and distribution operations.
Warehousing plays a vital role in supply chains and logistics systems. They serve as crucial temporary storage hubs, ensuring efficient management and organization of goods before they are ultimately distributed or shipped to their intended destinations. Having well-managed warehouses is essential for smooth and seamless operations within the supply chain.
Top features of warehouse:
Storage: Warehouses are primarily used for the safe and secure storage of goods. They are equipped with racks, shelves, or storage systems to organize and store products efficiently.
Inventory Management: The world of inventory management has come a long way, and warehouses are now utilizing SaaS technologies and sophisticated systems like Inciflo to keep track of their inventory levels. This ensures greater accuracy, efficiency, and overall control over the entire inventory management process.
Distribution: Distribution is a critical aspect of warehouse operations, as they often double up as efficient distribution centers. These warehouses play a vital role in fulfilling customer orders and meeting the needs of other businesses by carefully picking, packing, and shipping goods.
Cross Docking: Cross-docking is a highly efficient system employed by warehouses to streamline operations. Instead of storing goods for an extended period, they are received and promptly transferred to outbound vehicles.
Safety and Security: Warehouses take safety and security seriously by implementing robust measures to prevent theft, damage, and unauthorized access. This includes advanced security cameras, state-of-the-art alarm systems, and reliable access control systems.
Types of warehouse:
Public warehouses: Public warehouses, operated by third-party logistics (3PL) providers, offer storage and distribution services to multiple businesses. They are a popular choice for companies in need of flexible or seasonal storage options.
Private warehouses: Private warehouses refer to facilities that are owned and operated by a single company or organization. These warehouses are dedicated solely to fulfilling the storage and distribution needs of that particular company.
Distribution centers: Distribution centers are warehouses that have a specific focus on efficiently distributing goods to customers or retail locations. These centers are strategically located in order to minimize transportation costs and ensure timely delivery to end-users.
Fulfillment centers: Fulfillment centers are specialized warehouses used by e-commerce companies. They store products, pick and pack orders, and manage shipping to individual customers. These facilities often leverage automation and advanced technology to expedite order processing.
Cold storages: Cold storage warehouses are essential for maintaining low temperatures to store perishable items such as food, pharmaceuticals, and chemicals. These warehouses are equipped with refrigeration or freezing capabilities to ensure the preservation of product quality.
Chemical Warehouses: Chemical warehouses are specifically designed to safely store and handle dangerous or hazardous materials, such as chemicals, explosives, or flammable substances. These warehouses strictly adhere to rigorous safety regulations to ensure the utmost safety and security.
The Rise of Logistics industries:
Logistics (which comprises transportation, storing of goods, Warehousing, materials handling, and packaging) is the process of transferring the goods from the point of origin to the final destination which is the point of consumption. With time, the logistics industry is seeing significant growth in India and has become a major focus for the Indian government in the past few years. Out of the three verticals, the major vertical of logistics is warehousing constitutes nearly 15-35% of the total logistical cost.
Earlier what only referred to the storage of goods has now evolved from its primary function and now also includes value-added services such as sorting, packing, blending, and processing. In India, the warehousing market is highly fragmented with most of the warehouses having an area of less than 10,000 sq. ft. Approximately 90% of the warehousing space in the country is controlled by unorganized players, which manage small-sized warehouses with limited mechanization. Lately, due to the growing attention towards the warehousing industry, the sectors have been attracting investments from international players which are propelling the formalization of the same.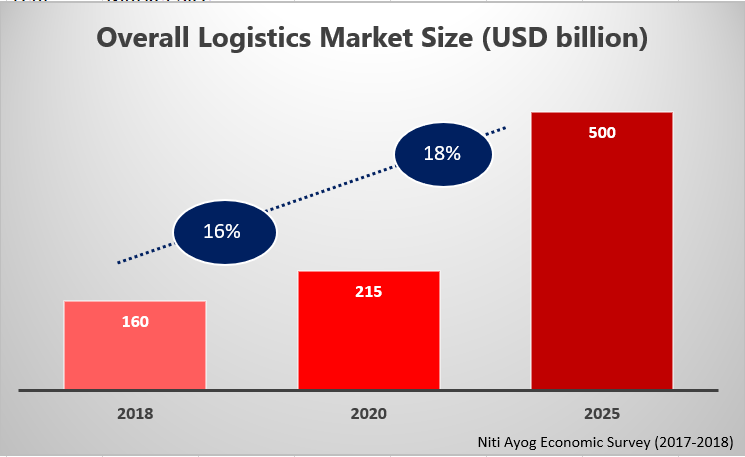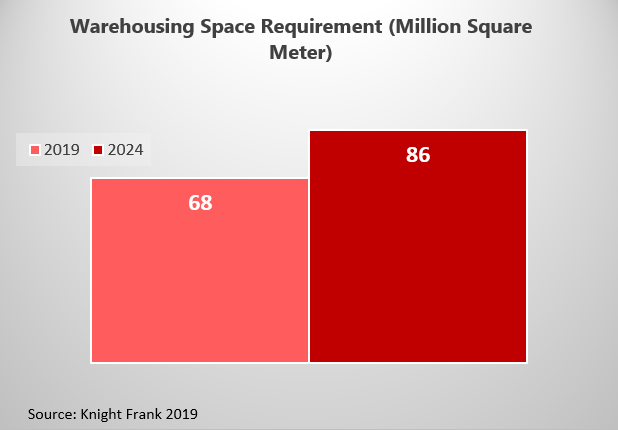 With the evolution of the organized retails sector, modern warehouses for the storage of perishable goods have become essential and have become the backbone of the manufacturing and e-commerce industry. Based on the construction and the amenities provided, there are two types of warehouses, Grade A and Grade B warehouses.
To elaborate on the same Grade A warehouses are usually labeled superior based on their construction, quality, amenities provided like fire-fighting systems, CCTV surveillance, building insulations, LED lights, security systems, and clients among others. Grade B warehouses on the other hand are basic warehouses with essential services. In India, still, Grade B warehouses hold a larger share of warehouse stock as well as net absorption, but with the technological advancement and rapid growth of this sector in the logistic industry Grade A warehouses have witnessed growth with time.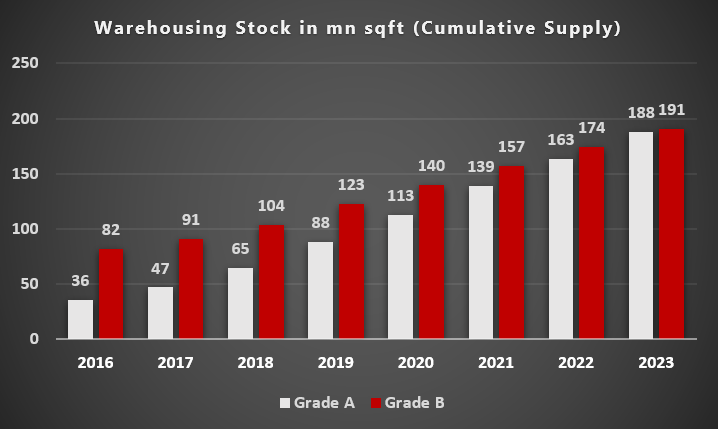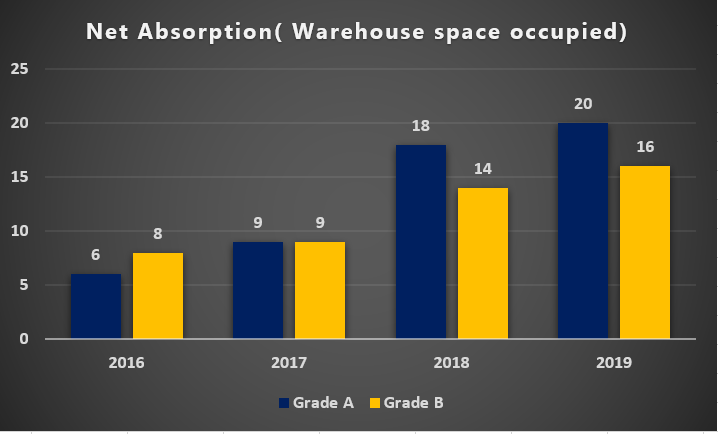 With the changing times, the logistics industry is believed to witness high growth along with the rise in warehouse space requirements. Several e-commerce companies and retailers have been facing a major fluctuation in customer demands due to which they have to be dynamic in their approach as well as the choice of types of warehouse and its location.
Godamwale, one of India's largest logistic network is helping these companies by providing them with the warehouse of their choice(Grade A and Grade B) and at a location of their need to aid them in managing their inventory in the most efficient manner and deliver their products to every corner of the country with a reduce cost and a reduced Turnaround time. Our Key services include On-demand warehousing, 3PL and E-commerce and B2B Fulfillment centers with on-demand scalability providing flexible, efficient & profitable end to end Omnichannel supply chain solution for companies of all sizes.
This blog is written by Mriganka Garg, she is currently pursuing her MBA from IIM Raipur.